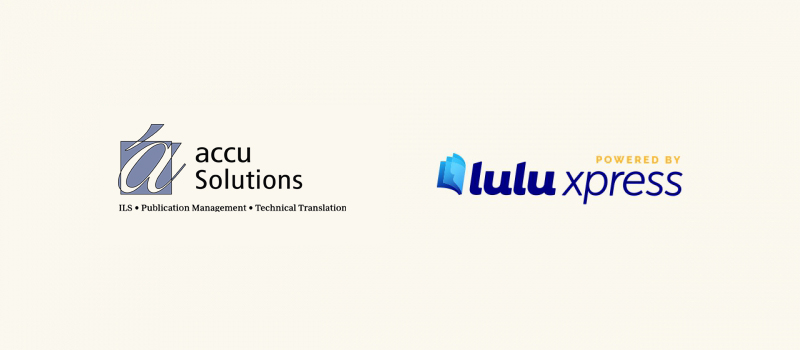 Global Content Provider ACCU Solution Services partners with Lulu.com to offer integrated multilingual printing services
Toronto, Canada, November 19, 2019
ACCU Solution Services has been offering multilingual data solutions for more than 40 years and has now added print options for its worldwide customer base. ACCU Solution customers can now benefit from an automated translation and printing process, in more than 50 languages, through its trained Neural Machine Translation engine network, alongside Lulu's global print-on-demand platform.
ACCU Solution Services will also provide the ability for Lulu's authors to now order and print their books in more than 50 languages through their new print portal, powered by Lulu. Authors will be able to verify the quality of the translation output before printing and have the option to upgrade their service order if desired. The primary focus is to accurately convey the message of the author in different languages through an easy process at a very low entry cost. In the new year, Lulu.com and ACCU Solution Services will work together at integrating their offerings between platforms for a completely automated and seamless experience, along with an updated Shopify app.
Offering our authors more effective ways to share their content in other languages at a global scale, is not only empowering, but in line with our mission to make the world a better place, one piece of content at a time. Working with ACCU Solution Services also further expands our reach to commercial applications outside of North America, which has been a continued focus of our company for several years. We are looking forward to a deeper integration with ACCU that will allow for full automation of the translation and printing process, offering an unrivaled way for businesses and individuals to scale their global print reach

CEO & Founder of Lulu.com, Co-Founder of Red Hat
ACCU Solution Services is proud to partner with Lulu.com. We are grateful to be able to offer our customers the highest quality print-on-demand options for their content, while simultaneously enabling Lulu's authors to share their content with the rest of the world more effectively

CEO of ACCU Solution Services
About ACCU Solution Services


ACCU Solution Services Limited has over 40 years' experience in documentation management and content globalization. The company's structured project management methodologies allow it to provide a turnkey publication management solution, coordinating the activities of Technical Writers, Illustrators, Software Engineers, Translators, Editors, Subject Matter Experts and Desktop Publishers. Accu Solution Services uses proprietary technology in managing various levels of project complexities to suit clients' authoring, publication and data management needs.
More information can be found at www.accusolutionservices.com
About Lulu.com


Lulu.com was founded after Bob Young had an unsatisfying traditional publishing experience with his book Under the Radar, which was based on his success as the co-founder of Red Hat (NYSE: RHT). Bob was determined to establish a more effective and profitable route to publishing. Since introducing online self-publishing in 2002, Lulu.com has empowered creators in more than 225 countries and territories to produce nearly two million publications. Lulu.com is available in six languages: English, French, Spanish, German, Italian and Dutch.
More information can be found at www.lulu.com
CONTACTS